A summer wedding calls for the perfect blend of style and comfort in the groom's attire. The sherwani, a traditional outfit that exudes elegance and charm, offers a range of trendy designs to embrace the season in style. Let's explore some captivating sherwani designs that are ideal for summer weddings, allowing grooms to make a fashionable statement while staying cool and comfortable.
1. Pearl White
One of the most captivating choices for a summer wedding is a pearl white embroidered sherwani. The pristine white hue creates a fresh and sophisticated look, while the intricate embroidery adds a touch of opulence. Whether it's delicate threadwork, sequins, or beads, the embroidery on the sherwani elevates its overall appeal. Pair this sherwani with contrasting accessories like a royal blue or emerald green turban to create a striking visual impact.
2. Traditional Self Textured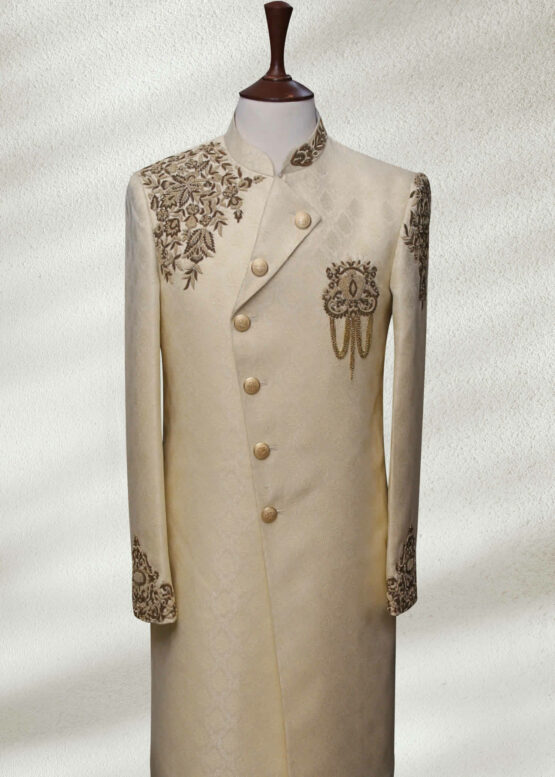 For those who appreciate the charm of traditional designs, a self-textured sherwani is a perfect choice. The textured fabric adds depth and dimension to the ensemble, making it visually interesting. Opt for fabrics like jacquard or brocade to achieve this self-textured effect. This sherwani design exudes a timeless appeal and can be complemented with a matching or contrasting stole to complete the look.
3. White Embroidered Sherwani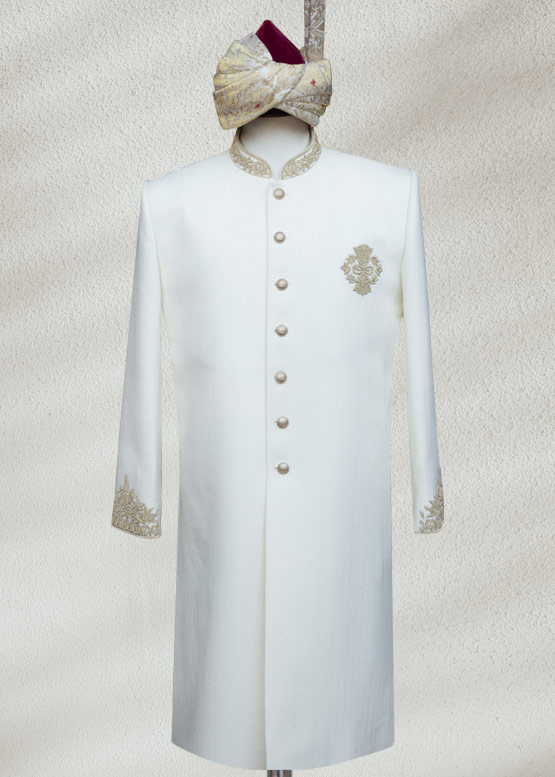 A white sherwani adorned with intricate embroidery is an excellent option for grooms who want a classic yet fashionable look. The combination of white and gold or silver embroidery creates a regal and sophisticated appearance. The contrast between the white base and the ornate embroidery enhances the overall elegance of the sherwani. Pair it with a statement necklace or brooch for an added touch of glamour.
4. Classic Off-White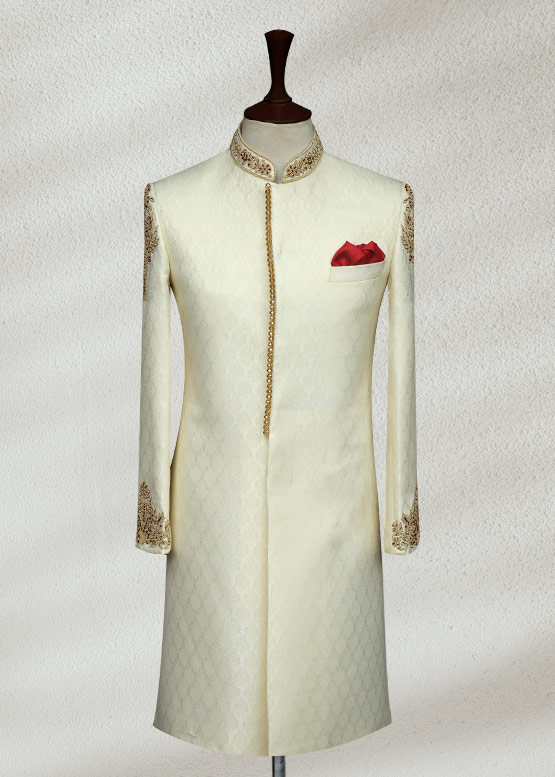 An off-white sherwani is a versatile and evergreen choice that is well-suited for summer weddings. The subtle shade of off-white complements various skin tones and creates a refined and understated look. This classic sherwani design can be personalized with unique embellishments such as buttons, tassels, or contrasting piping to add a touch of individuality. Complete the ensemble with a coordinating turban and traditional footwear for a polished appearance.
5. Elegant Off-White Sherwani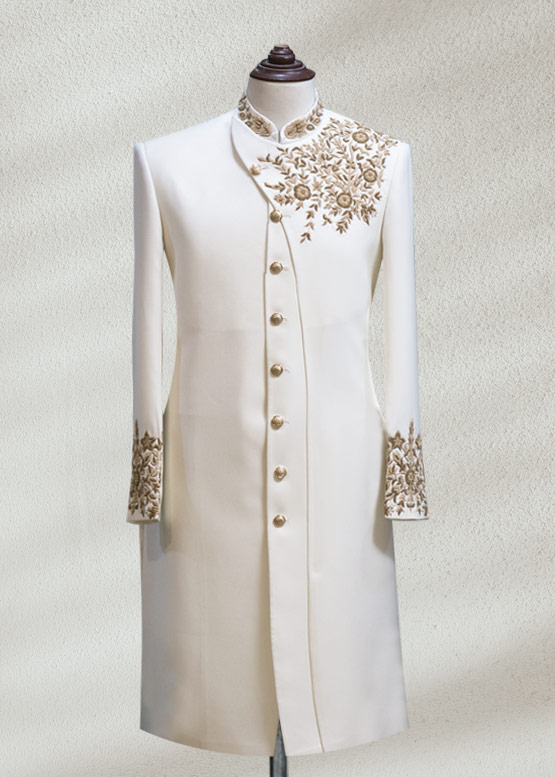 For grooms who want a sherwani with a hint of grandeur, an off-white sherwani with golden embroidery is an excellent option. The golden embroidery stands out beautifully against the off-white backdrop, exuding opulence and refinement. The golden accents can be featured on the collar, cuffs, or along the length of the sherwani, creating a captivating visual impact. Complement the ensemble with golden accessories, such as a brooch or turban ornament, to complete the look.
Conclusion
When it comes to summer weddings, selecting the right sherwani design is crucial for grooms to make a stylish impression while staying comfortable. The pearl white embroidered sherwani, traditional self-textured sherwani, white embroidered sherwani for the groom, classic off-white sherwani, and elegant off-white sherwani with golden embroidery are all trendy choices that perfectly capture the essence of a summer wedding. Embrace the season in style by selecting a sherwani design that reflects your personality and allows you to exude confidence and elegance on your special day.