In the ever-evolving landscape of men's fashion, sherwanis have emerged as a popular choice for weddings and special occasions. Traditionally, sherwanis were associated with muted colors and classic designs. However, in the new era, men are embracing bold and vibrant colors to make a style statement. This article explores some of the trendy colors that have gained popularity for men's sherwanis, showcasing their unique charm and elegance.
Black Side Cut Short Sherwani: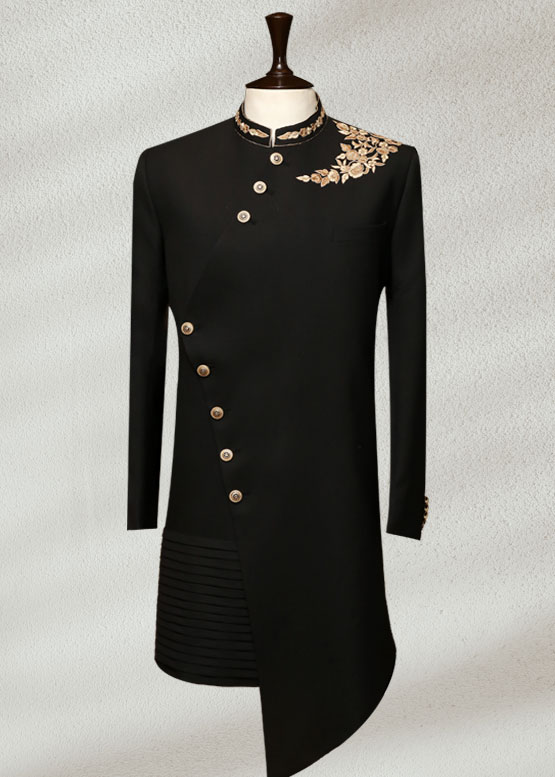 Black has always been a symbol of sophistication and timeless elegance. In the new era, the black side-cut-short sherwani has become a prominent choice for men who want to exude confidence and modernity. This contemporary twist on the classic black sherwani features a shorter length with a side cut, adding a touch of flair and uniqueness to the outfit. The black hue creates a sharp and striking look, making it ideal for formal occasions and evening weddings.
Blue Embroidered Wedding Sherwani: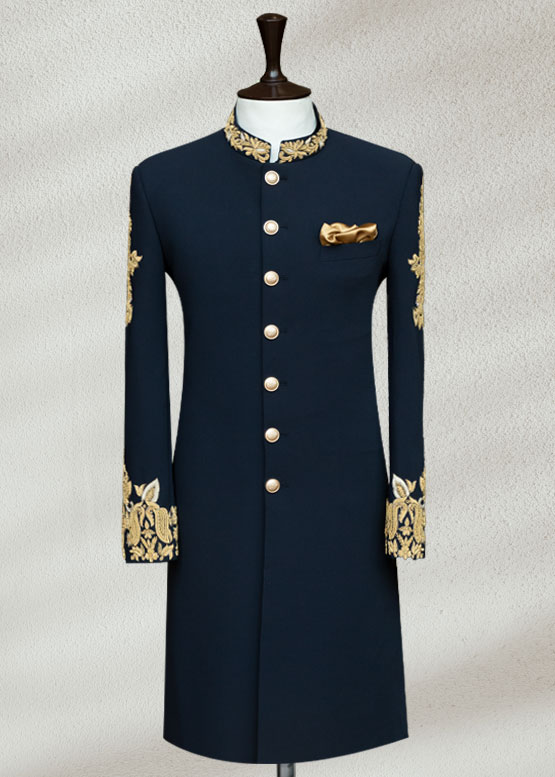 Blue is a versatile color that offers a wide range of shades to choose from. For a wedding sherwani, a deep blue hue with intricate embroidery can create a captivating ensemble. The combination of blue with exquisite gold or silver embroidery enhances the regal appeal of the sherwani. This color choice exudes sophistication and sets the groom apart, making it a popular option for contemporary weddings.
Golden Sherwani for Groom: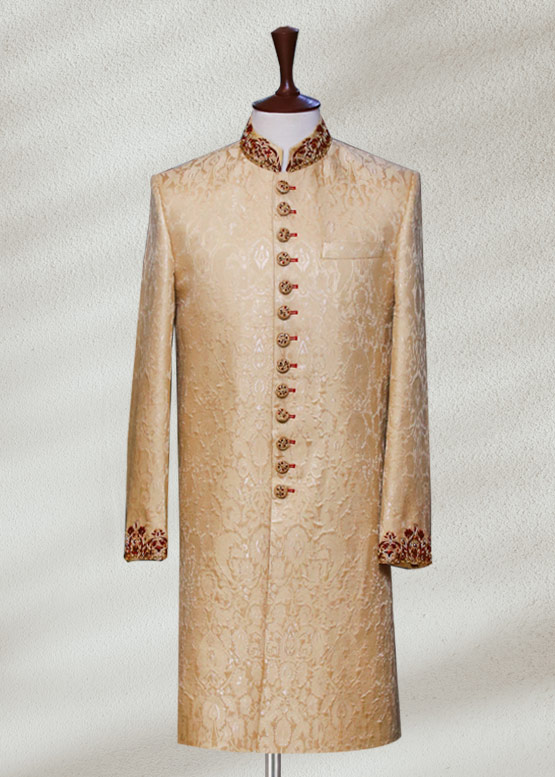 Gold is synonymous with opulence and grandeur, making it an ideal choice for a groom's sherwani. A golden sherwani adorned with rich embellishments, such as intricate threadwork or sequins, adds a luxurious touch to the ensemble. The shimmering gold hue complements the celebratory atmosphere of weddings, making the groom stand out with a radiant and regal presence.
Sky Blue Wedding Sherwani:
Sky blue is a refreshing and serene color that has gained popularity in men's fashion. The sky blue wedding sherwani brings a sense of tranquility and elegance to the groom's attire. This color exudes a calming effect and works well for daytime and outdoor weddings. Pair it with contrasting accessories or intricate silver embroidery to create a striking ensemble that reflects modern style and sophistication.
Royal Blue Side Cut Sherwani: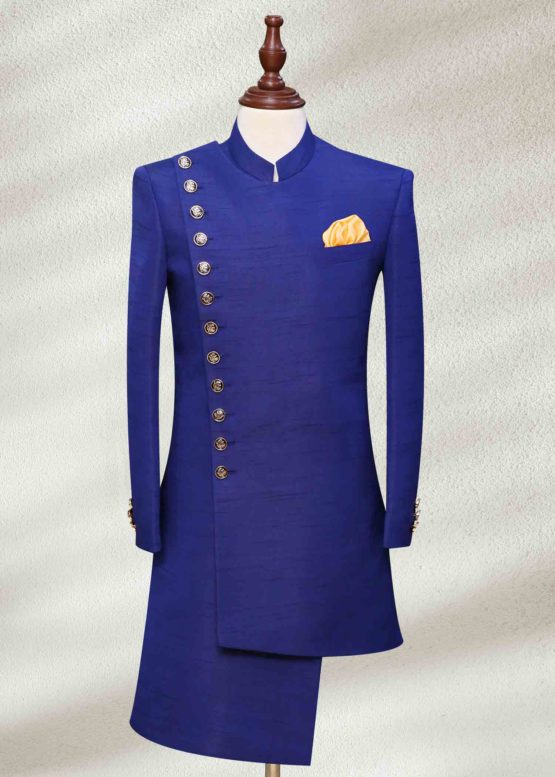 Royal blue has an inherent richness and majesty that instantly grabs attention. The royal blue side-cut sherwani combines the allure of the color with a contemporary twist. The side-cut design adds an element of modernity, while the royal blue hue exudes a sense of regality. This fusion of traditional and contemporary elements creates a stunning sherwani that is perfect for modern grooms who want to make a bold fashion statement.
Conclusion:
In the new era of men's fashion, sherwanis have transcended traditional boundaries and embraced trendy colors. The black side-cut short sherwani, blue embroidered wedding sherwani, golden sherwani for the groom, sky blue wedding sherwani, and royal blue side-cut sherwani are just a few examples of the diverse color options available.
These trendy colors redefine men's sherwani fashion by infusing them with contemporary elegance, making them perfect choices for the style-conscious groom of today. Whether it's a classic black ensemble or a vibrant blue creation, men's sherwanis in the new era offer a plethora of options for the modern man to showcase his unique style and personality.