As summer peeks around the corner, many people are wondering how the pandemic might interfere with their outdoor activities, including how wearing a mask under the scorching sun is possible, comfortable or even safe.
Health officials still tout face masks as one of the best ways to prevent coronavirus spread and infection, but hot, muggy temperatures will test your patience and could actually make it more difficult for cool air to reach your lungs.
You might feel the urge to slip the mask under your nose to breath more easily, or you might be tempted to take it off after drenching the material in sweat.
It's important to resist those urges because touching your face and exposing your airways while around other people can increase your chances of contracting and spreading COVID-19.
Here are some tips to get you through this summer.
Material and color
The first way to ensure a comfortable summer experience during the pandemic is to choose a breathable material.
The Centers for Disease Control and Prevention says to "use tightly woven cotton, such as quilting fabric or cotton sheets," or even a cut-up T-shirt.
Cotton isn't particularly good at absorbing moisture from the skin, but it's more breathable than synthetic fibers such as polyester, which can make it hotter and harder to breathe through, Nicole Jochym, a medical student who works with the Sew Face Masks Philadelphia organization, told the Philadelphia Inquirer.
A study found that one layer of T-shirt material blocks about 40% of water droplets mixed with fluorescent particles that mimicked the coronavirus's size, while adding a second layer increased blockage to 98%, according to University of Illinois at Urbana-Champaign researchers.
But highly breathable materials also allow more particles to pass through your mask into your breathing area, meaning you aren't protecting yourself from infection,.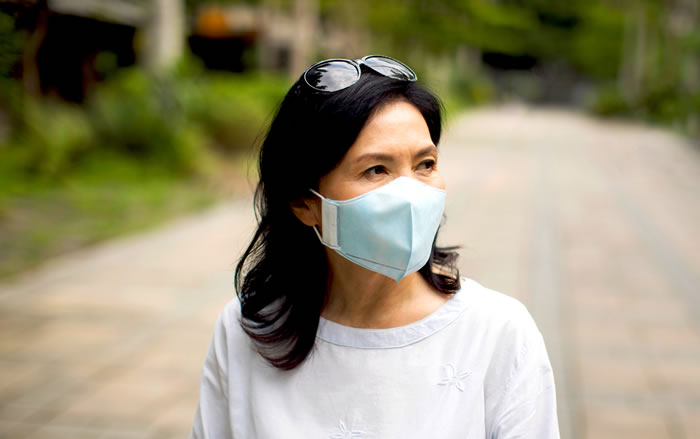 That's because bamboo is 40% more absorbent than "the finest organic cotton," and can take in "three times more water than its weight" when woven into a piece of fabric, according to Cariloha, a bamboo retail store.
The darker the color of your mask, the more attention you're grabbing from the sun, too, because the colors absorb more ultraviolet rays, becoming hotter more quickly than fabrics of lighter colors, experts say. Wash, wash and wash again
A sweaty muggy mask isn't fun, so experts suggest you bring several clean ones with you if you expect to be under the sun for long periods of time.
This is because soggy masks can be more harmful to your health.
Moisture sitting in masks for too long creates perfect breeding grounds for bacteria and viruses to thrive, especially when worn more than once without washing between uses, a 2015 study found.
That's why the experts suggests washing cloth masks after each use, either in the washing machine or by hand with a bleach solution.
If washed in a machine, Good Housekeeping says to use hot water and dry on high heat, and if you want to be extra careful, try ironing the masks to kill any remaining germs.
If you do plan to swap your mask for another, less-soiled one, wash your hands or apply sanitizer first, and try to do it when you're not around people, experts advise.
Limit your time outside
As the advice goes for any summer, limit your time outside to prevent sunburns and heat exhaustion, which may include heavy sweating and rapid pulse, or lead to heat stroke when exposed to high temperatures and humidity, according to Mayo Clinic.
"It's very important to wear an SPF of 50 or higher, apply before putting on the mask and then reapply regularly when out," Dr. Doris Day, a New York dermatologist and clinical associate professor of dermatology at the New York University Langone Medical Center, told Buzzfeed.
"Also wearing a hat to offer shade for the entire face will go a long way in preventing lines of demarcation (tan lines) from developing."
Hydration is also key, experts say.
"The best advice is to be aware of both your body and your surroundings. If you feel like you are over-exerting while wearing a mask in heat, take a break," Linsey Griffin, an assistant professor of wearable products in the University of Minnesota College of Design, told BuzzFeed. "This summer might require more planning around the heat than usual, but it does not mean you need to avoid being outside."
Take care of your skin
Masks will likely make you sweat more than usual during the summer, increasing your chances of having acne breakouts and irritable rashes.
A University of Pennsylvania dermatologist recommends applying a non-pore blocking moisturizer after removing your mask to help repair any damaged skin, Carrie Kovarik told the Philadelphia Inquirer.
And steer clear of makeup because that can clog your pores even more, Kovarik added.