Kale is the ultimate "superfood." It contains myriad vitamins and minerals—B6, A, C, E, K, calcium, potassium, manganese, etc.—that keep the digestive system tip-top. It's also packed with antioxidants that virtually chase unwanted toxins out of the gut. It's so healthy that scientists call it one of the most nutrient-dense foods out there.
And for all the reasons kale should be eaten, it should also be incorporated into your beauty routine. The phytonutrients kale is known for are very nourishing to the skin, its abundance of vitamin C brightens the complexion, and its characteristic greenness can even help balance out redness (albeit on a superficial level)—all without wreaking havoc on the planet.
Incorporate this super powerful leafy green into your beauty routine with these eight DIY beauty applications.
1. Turn It Into a Face Mask
Essentially a green juice for your face, this wholesome mask recipe uses kale to nourish, lemon to liven up your complexion, and coconut milk and honey to hydrate and soothe.
Ingredients:
1/4 cup chopped kale
1 tablespoon honey
1/2 tablespoon coconut milk
1 teaspoon lemon juice
Steps
In a blender, puree a handful of kale. Transfer to a bowl.
Mix in honey, coconut milk, and lemon juice by hand. (Mixing all ingredients in the blender can make the mask too runny.)
Apply the mask evenly to your face, avoiding the eyes, and let sit for about 10 minutes before rinsing.
2. Use It as Makeup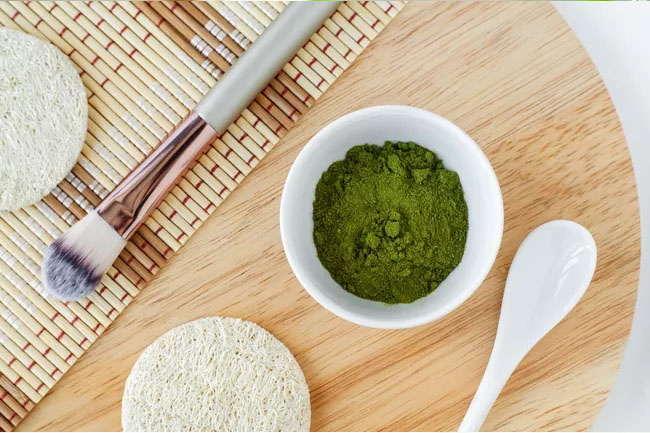 Thanks to its vibrant green hue, kale works wonderfully as an all-natural color-correcting concealer—green being a complementary color to red—or a homemade eyeshadow alternative. All you need to do is convert it to powder form.
After washing your bunch of kale thoroughly, dehydrate it using a dehydrator or oven. At 125 degrees, the kale should be crispy and crumbling between your fingers in about six hours.
Powder the dehydrated kale by pulsing it in a food processor, then swipe it on your eyelids or blemishes before applying foundation.
If you prefer a creamy consistency instead, simply mix a teaspoon of kale powder with a few drops of carrier oil like jojoba to form a paste.3of 8
3. Mix It With Coconut Oil to Make a Scrub
Several beauty brands use kale as an exfoliator in body scrubs. It's much eco-friendlier than the plastic microbeads often used for store-bought scrubs and gentler than common home exfoliators like salt, oatmeal, and sugar.
To avoid damage from exfoliation, it's a good idea to combine your abrasive ingredient with a hearty fat that will help maintain and rebuild your skin's protective layer. Do this by combining equal parts kale (powdered or minced fresh) with two parts coconut oil or vegetable shortening. Massage the mixture on your dry patches and rinse off with warm water.
4. Add Banana to Make a Green Hair Mask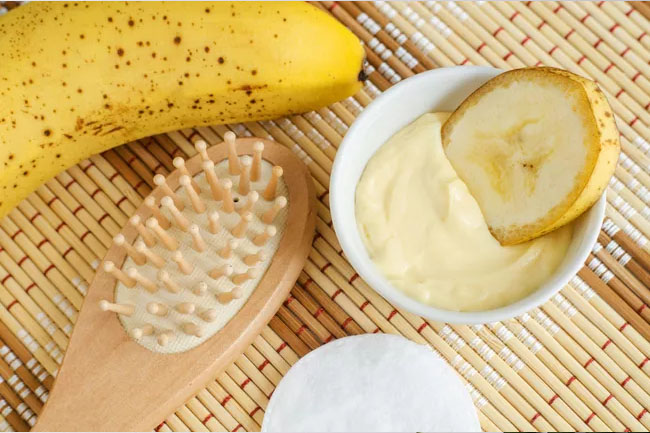 Kale is great to use in hair care because it coats hair follicles in omega-3 and omega-6 fatty acids, which make them stronger, shinier, and softer. The vegetable is also packed with beta carotene, a precursor to vitamin A—the hair vitamin.
The best way to incorporate kale into a hair mask is by first juicing it. Combine half a cup of fresh kale juice with one mashed banana. Massage the mixture into dry or damp hair from root to end, cover with a shower cap, leave it on for 30 minutes, then rinse.
5. Try This Leafy Green Eye Cream
Kale is a cruciferous vegetable, like broccoli, cauliflower, and Brussels sprouts. Cruciferous vegetables boast potent anti-inflammatory powers, and not just when they're eaten.2 Nutrients applied topically are eventually absorbed by the skin, which is why kale works so well for under-eye inflammation.
Combine two tablespoons of fresh kale juice, a quarter-cup of coconut milk, and two tablespoons of avocado oil. The consistency should be milky.
Spread it on the inflamed under-eye area, and let it sit for about 10 minutes before rinsing. This homemade eye cream works even better chilled.
6. Condition Your Nails With It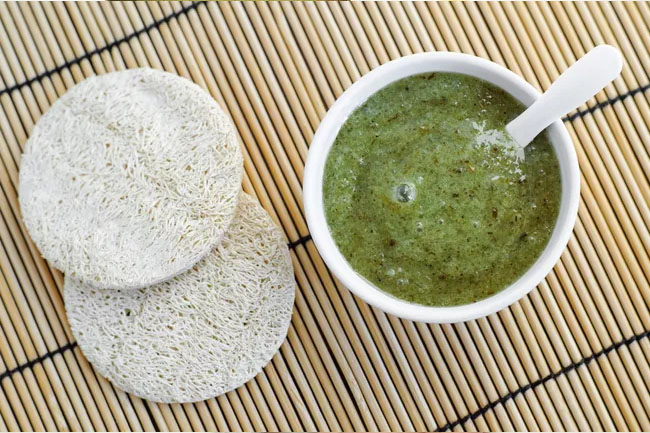 Indeed, you should even be using kale on your nails. The brand Nails, Inc. features the vegetable in a base coat because the vitamin A in it supports keratin synthesis, and keratin makes up the tissue in nails.
For this DIY nail conditioner, puree three tablespoons of kale with a teaspoon of olive oil in a blender. The kale will become wetter as it's blended, but if you need more moisture, add more olive oil.
Apply the conditioner to your nails and leave it for at least 5 minutes. (Bonus points for covering your nails with gloves and leaving the conditioner on overnight.)
7. Make a Superfood Toner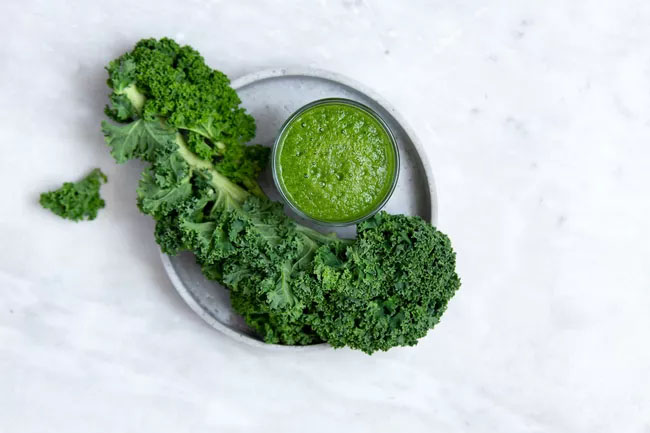 Toner is used after cleansing to extract any residual dirt from pores and even out the complexion. It can also be used throughout the day to energize skin and clear away bacteria. Ingredients like kale, spinach, and green tea are great for this because they're packed with antioxidants and skin-brightening vitamin C. The addition of mint masks the strong scent of spinach and kale in this DIY toner.
Ingredients
1 cup of green tea
1/4 cup (packed) mint
1/4 cup (packed) spinach
1/2 cup (packed) kale
Steps
Brew a cup of green tea.
Wash the mint, spinach, and kale, and pick the leaves off the stems.
Combine a cup (packed) of the mixed greens with the green tea in a blender. Transfer the liquid to a bottle.
Apply it with a reusable cotton pad or by spraying.
Keep the mixture in the fridge for up to a week.
8. Eat More Kale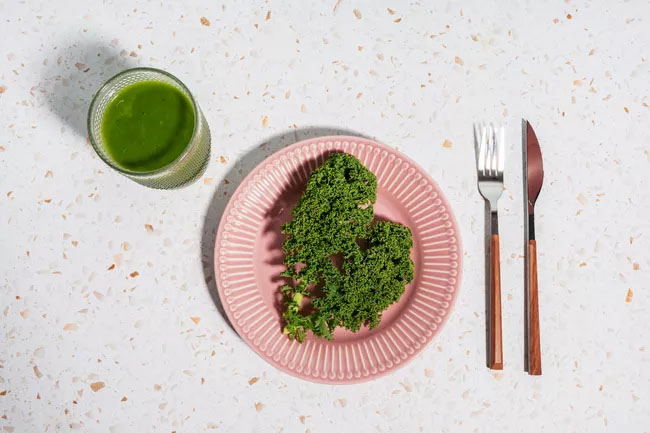 Skin, being your body's largest organ, is a direct reflection of your overall health. A balanced diet packed with essential vitamins and minerals normally leads to nourished, glowing, hydrated skin.
Make sure you're eating the kale as well as rubbing it on your face. Not only will this help your body get rid of any toxins that could be causing blemishes and inflammation, but it'll also promote collagen production, studies say.4 Collagen is the important protein that keeps your skin plump and stretchy.