Face wash and Cleansers are the most important part of our daily skin care routine. Face wash removes the excessive oil and dirt from the skin, whereas cleansers go deep inside the skin layers and cleans the clogged pores, which is the prime cause of acne and blackheads.
Difference between Face wash and Cleanser
Many people are confused between face wash and cleansers. Some people claim that both these products are same with two different names, but trust me! There's an enormous lot of difference between them.
The face wash is harsher as compared to cleansers.

Cleansers are more efficient when you need to take off your makeup, or you need deep cleansing.

Face wash removes the oil and makes your skin dry. On the other hand, cleansers act as a moisturizer and leaves your skin softer than before. 

The primary purpose of face wash is to remove excessive oil while cleansers are more focused on removing the dirt and blackheads.
Tips for Perfect Cleansing
There are so many myths related to facial cleansing, if you follow these instructions, your cleansing will never go erroneous. 
Always wash your hands before cleaning your face and make sure your palms and washcloth are pretty clean before touching your face. 

Everything works perfectly in moderation. If you overdo it, it will make your skin dry and sensitive. 

It is believed that using hot water can open the clogged pores while cold water shrinks the enlarged pores. Dermatologists suggest ordinary tap water for cleansing purpose. Too hot or too cold water can make skin sensitive and increases the chances of redness and breakouts. 

Make cleansing your face a ritual when you wake up in the morning and before going to bed. These timings are perfect for this purpose, and you can get maximum benefit from it. If you have sensitive skin, then cleanse only once a day before going to bed.

Choose the right type of cleanser. Gel cleansers are only suitable for oily skin. If you have dry skin, then you should definitely go for creamy cleansers. 

Always make sure you have removed the cleanser properly after you are done with it. Any residue can cause damage to your skin.
DIY Homemade Facial Cleansers
Most of the women believe that cleansing is a must to maintain hygiene and a real persona in today's world. Women in the past also used to cleanse their skin regularly. Now the question arises,'How?' As they did not have any branded cleansing products available. Those women used natural ingredients and herbs to make their own cleaners, according to their skin type. Natural cleansers are equally effective as far as you are doing it right. Homemade cleansers are safe, effective, cheap and easy to made. You can prepare your own version of cleanser, with simple ingredients, in just a few minutes. You can also try these Homemade Avocado Face Masks for instant results. ry the following recipes and make a perfect cleanser according to your skin needs.
Oil Cleansing
Oil cleansing is suitable for all skin types. It sounds weird, but you would be amazed to know that it works best for oily skin. Oily skin has super-active sebaceous glands that are continuously producing oil. Oil cleans the skin deeply and nourishes it deeply, unlike other products that are harsh and cause the hyper-production of oil by sebaceous glands. Its very simple, quick, easy and cheapest way of cleaning your skin naturally. Use essential oil of your choice and enjoy the benefits. For more information read Oil Cleansing- Natural And Healthy Way Of Cleaning Your Skin.
Homemade Facial Cleansers For Dry Skin
Dry skin means your sebaceous cells are not producing enough oil to your skin. This dryness usually causes cracks and tears in your skin layers, making it a lovely cozy habitat for bacterial cells. Bacteria are the primary reason for pimples, breakouts, and acne. Women with dry skin are more affected by the seasonal change, and their skin is more likely to age fast as comparatively with the ones having oily skin. Proper cleaning and regular moisturizing is necessary for healthy skin.
Yogurt & Papaya Facial Cleanser

Its a magic ingredient for those who are suffering from uneven skin tone issue. Its widely used with other ingredients for making different hair masks and face packs. Just like Avocado, Papaya is also considered as a highly nutritional fruit. So whether you eat the fruit or apply it to your skin, you will always be amazed with the results. 
Mash the fruit with a fork well so you can get a nice smooth texture. Add a tablespoon yogurt to your mask and mix well. Apply the mixture in circular movements so it could remove the dead layers of your skin and nourish your skin deeply. 
Aloe Vera & Honey Facial Cleanser 
You would be surprised to know that, both Aloe Vera and honey are best for healing and repairing. Both these ingredients are helpful in treating, dry skin, sunburn, dark patches, uneven skin tone or even mild acne. Aloe Vera can be used alone without any other ingredient as its rich with more than 72 nutrients, 25 minerals, 12 vitamins and 18 different types of amino acids. What else do you need? I love to apply Aloe Vera, but sometimes it causes irritation. For this, I mix it with my moisturizer and then apply it to my skin. This trick works for me well, my skin gets nourished and moisturized at the same time.
How To
Take a fresh new Aloe Vera leaf. Peel off the skin and scoop the gel out. Add a tablespoon honey to it and mix well. Bongo! Your cleanser is ready. Apply it to your skin and cleanse skin in circular movements. 
You can make this cleanser in nice quantity and use it whenever you need. But I would suggest you to use it fresh as the sooner you apply Aloe Vera after separating it from the plant, the better it would be. 
Homemade Facial Cleanser For Oily Skin
Raw Milk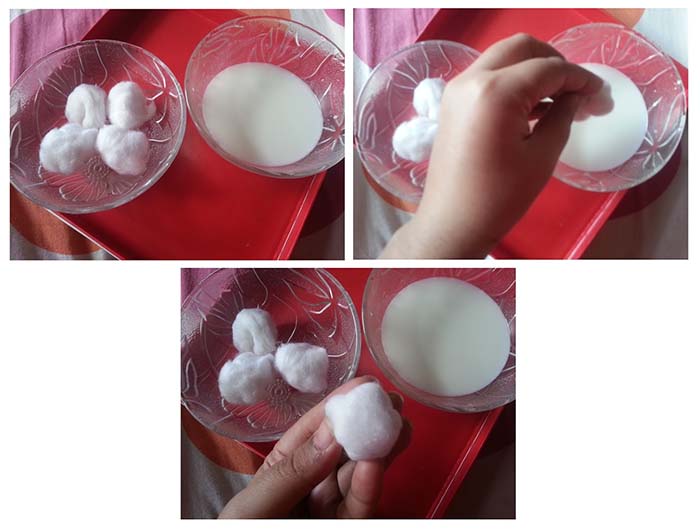 Raw milk is used as a cleanser for all skin types. It is the best natural moisturizer and skin whitener. Women have been using it for centuries to enhance their beauty naturally. Milk Bath  is the oldest way of moisturizing whole body and the secret behind using this ingredient is it's anti-ageing properties. You can use milk in the variety of ways to cleanse and nourish your skin.
How To
Take half cup of cold raw milk and a cotton ball. Dip the cotton ball in milk and rub it on your face gently. Leave it on your face for 10 minutes and wash it with fresh water.
Gram Flour, Turmeric, Lemon juice and Raw Milk Facial Cleanser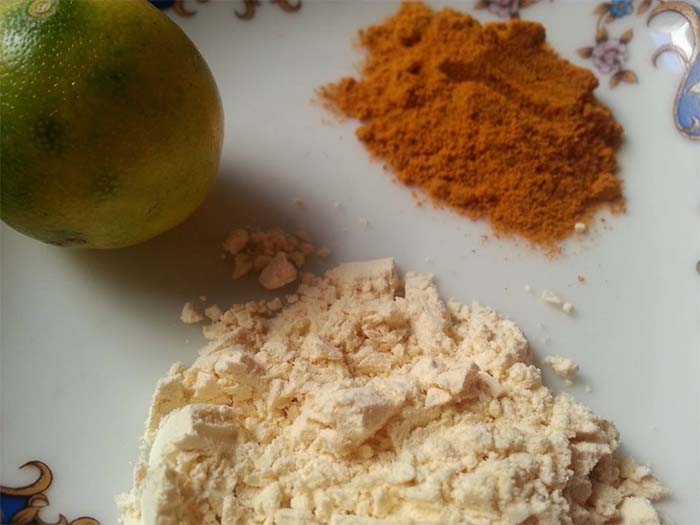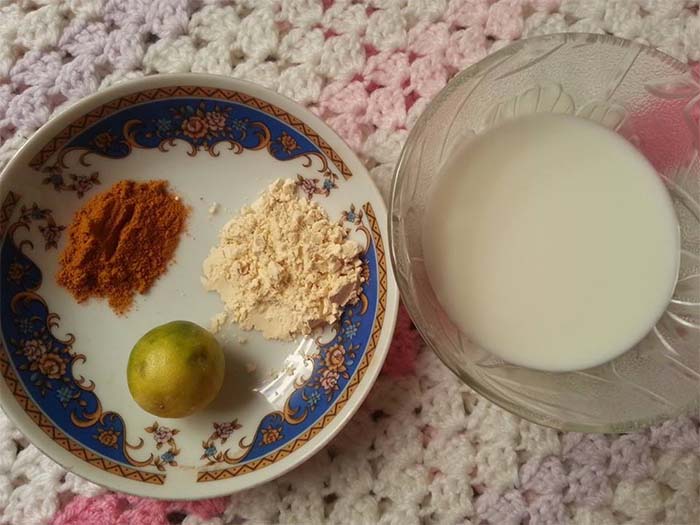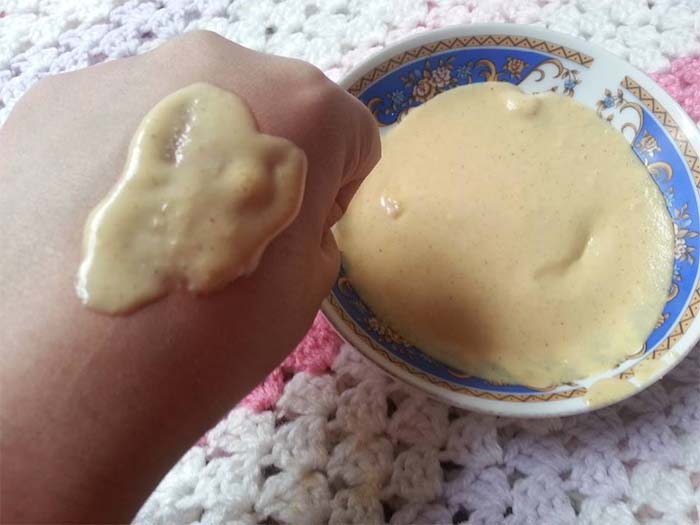 Gram flour absorbs excessive oil from the skin and also extract the dirt from clogged pores. The Turmeric powder is well known for its antiseptic properties, and this is the main reason you will find it in most of face mask recipes. Lemon juice in this mask will act as a skin lightening agent and due to the presence of vitamin C, it gives instant freshness to your skin while milk is a natural moisturizer for all skin types. So this mask is a complete facial treatment that will not only rejuvenate the dead skin but also vitalize your skin beauty.
Take two tablespoons of gram flour, add a pinch of turmeric, squeeze half lemon (fresh and medium size) in it and use milk as needed to make a thick paste.
Apply this mask to your face and neck in circular movements and allow it for 15-20 minutes. Let the mask dry completely. Don't rub your skin harshly, just make your hands wet and tap your skin with fingers. Mask will get soft and moist again like before, and it will be easy for you to wash it off. Use ordinary tap water for washing your face after it.
Homemade Facial Cleanser For Normal/Combined Skin
If your skin gets easily affected by weather changes like in summers, it gets too oily and during the winter season it gets dry, then you are more likely to have a normal/combined skin type. I also have this kind of skin combination and I know the effort it takes to manage it. Whether you are buying a foundation or a moisturizer, its is always difficult to select the texture because you T-zone needs something that is matte to cover the greasy look while your cheeks and rest of the facial part need something that is creamy so it can add a glow to the skin.
I usually keep two kinds of moisturizer for my skin. One is a heavy moisturizer, which I slather on my skin when it gets too dry, and the other one is light one that I regularly use, especially after washing my face.  
Tomato Juice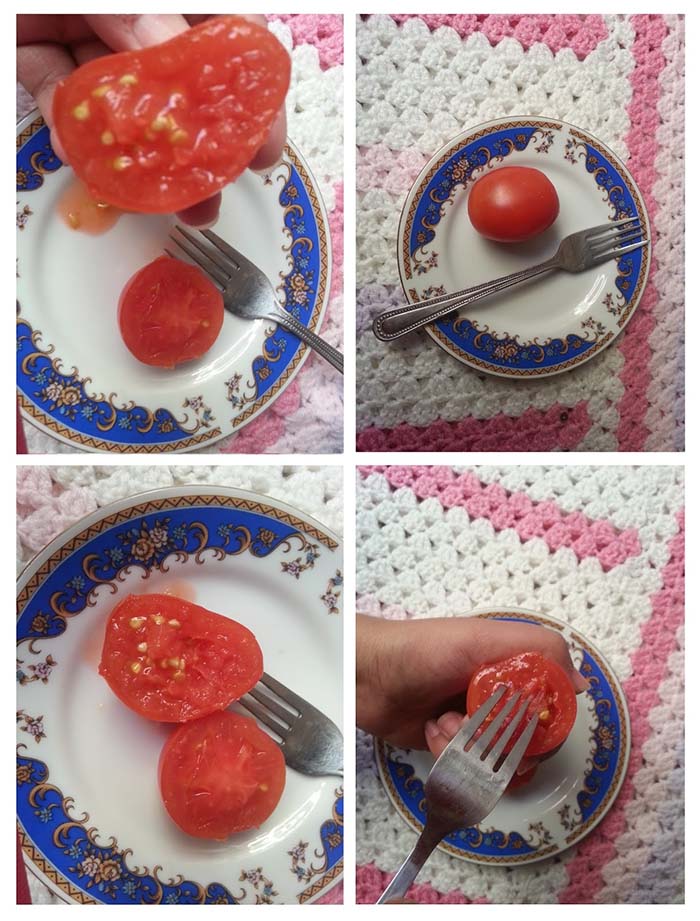 Tomato is a wonderful gift from nature. It is an exquisite source of Vitamin A also known as Retinol, a key element in the anti-ageing products. It slows down the aging process and helps the skin to fight the signs of aging. It is also rich in Vitamin C; that helps in rebuilding the skin layers and stimulates collagen production. Many women use it regularly, as it lightens skin color and removes excessive oil from the skin. It is a complete facial treatment, fulfilling all your basic skin needs.
Take a fresh fully ripped red tomato. Cut it in half and use a fork to pierce it well so it gets more juicy. Rub the tomato on your face gently and wash it with fresh water.
Homemade Facial Cleanser For Sensitive/Acne prone Skin
Acne is caused due to a large number of reasons like hormonal disturbance, disturbed pH level of your skin, clogged pores, cosmetic allergy, stress, depression, unhealthy diet and atmospheric pollution. Best way to get rid off it is have a clean diet and maintain healthy routine. Along with healthy diet you can use this face cleanser to get rid off acne.
Cinnamon Powder and Honey Facial Cleanser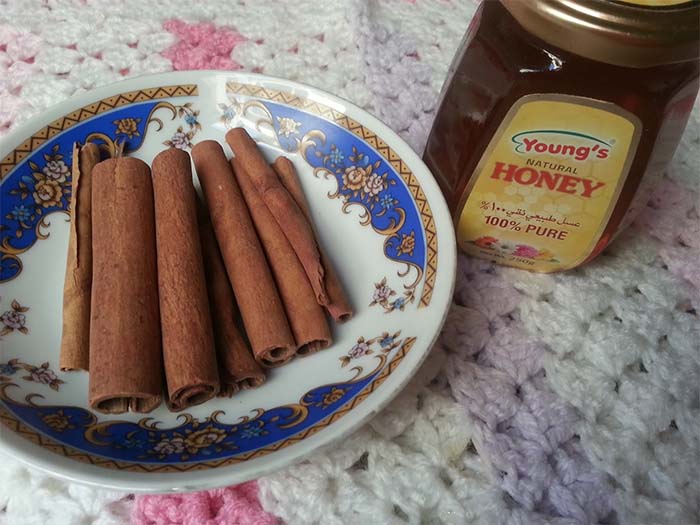 Cinnamon and honey are used together for treating a number of skin conditions like acne, eczema, ring worms and red itchy skin. It not only treats skin conditions but also gives additional benefits to our skin. It increases blood circulation and helps rejuvenation. Regular use will remove acne and will help in resurfacing the scars.
How To
Take one tablespoon honey and add half teaspoon of cinnamon powder to it. Make a thick paste and apply to affected areas. Leave for 5 minutes. Then apply the remaining paste to overall face and again leave it for 5 minutes. Rinse your face with warm water and pat dry with a neat towel.
Homemade Facial Cleanser/Mask For Ageing skin
Aging does not mean that you start getting wrinkles on your face. It is the time when your skin renewal process gets slower. Average women need anti-ageing treatments in their early thirties. It is the time when your skin needs extra attention including daily cleansing, proper moisturizing, night creams and skin tightening masks. Those women, who start pampering their skin in the initial stages never need harsh and expensive skin treatments like chemical peels, Micro Dermabrasion or anti-ageing skin rejuvenation. 
Coffee & Honey Facial Cleanser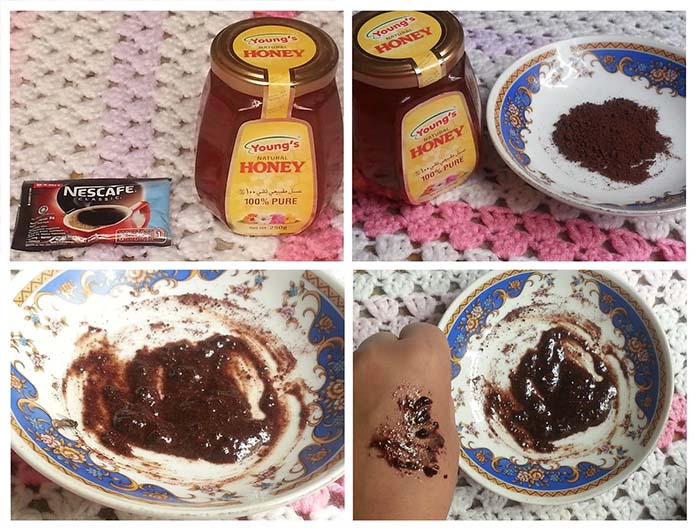 This is one of my favorite DIY skin treatment, and I use it at least once in a week. I know it sounds weird to use coffee in your skin treatment but believe me, you will be amazed when you wash it off. This mask opens the clogged pores, kills the bacteria (due to the presence of honey), tightens the skin and adds instant glow and fairness to your skin. This combination works best in winters when your skin gets dull and dusky, and your skin badly needs something that can revive your skin and can bring it back to life.
Take a tablespoon of both honey and coffee and mix well. You will get a thick dark colored paste. It looks awful but smells really delicious yum yum !  Apply this paste with your finger tips and massage in circular movements. Leave it for 15-20 minutes or wait till it dries completely. Now tap your skin with wet fingers so it gets soft again. Again massage your skin well and wash it off with fresh water. Pet dry your skin with soft towel and apply a thin coat of your favorite moisturizer.