Pollution, exposure to harmful sun rays, and using poor quality cosmetics, all contribute to pigmentation of lips and take away the pinkness and suppleness of lips. But a number of natural remedies can help you to lighten dark lips and restore their natural color.
1. Show your lips some TLC and exfoliate them with a sugar scrub and a toothbrush. Sugar scrub gently scrapes off the dead cells and reveals fresh and smooth skin from beneath. Exfoliating the lips is one of the best ways to get rid of dry, flaky, and dark skin which gives lips a dark appearance.
2. Every night before going to bed, apply a mixture of honey, glycerin, and lemon juice to lighten dark lips naturally.
3. Apply a bit of fresh aloe vera gel on your lips every night. This will help to nourish and hydrate your lips, and gradually lighten the pigmentation over time.
4. Dabbing coconut oil or almond oil every now and then makes a whole lot of difference to your lips. It is one of the best methods to soften your lips and give you pink puckers. Instead of store-bought lip balms, these oils help you lighten your lips and also make them super soft and smooth.
5. Moisturize and condition lips by applying ghee on the lips, and leave it overnight.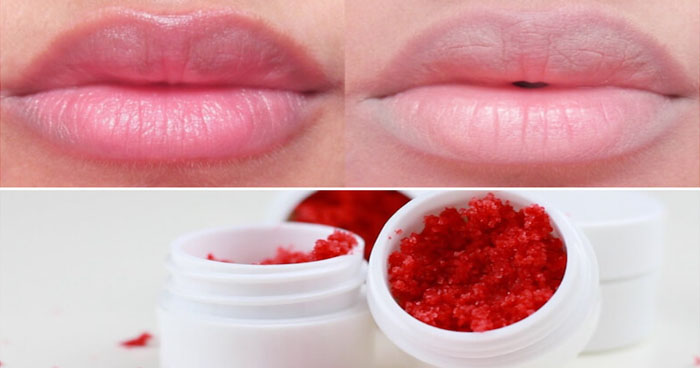 6. Extract fresh pomegranate juice and apply it to the lips. It gives a natural flush and with time lightens dark pigmented lips to give you the pink puckers you crave for.
7. Beetroot juice is the most effective lip stain ever. And it's completely natural and devoid of chemicals. You can apply beetroot juice on your lips as often as you please and see your lips blossoming into a beautiful pink shade.
8. The potent combination of honey and lemon is a natural bleach and can fade the deepest of pigmentation. Instead of using lip-lightening agents, use this natural remedy to remove the darkness of lips. Use it once or twice a week and follow up with a nice nourishing agent like lip butter.
9. Take 1 tbsp of sweet almond oil and a few drops of lemon juice into it. Mix well, apply it on the lips, and keep it overnight.
10. Make an effective lip scrub by mixing olive oil with sugar granules, massage this scrub on the lips, keep it for a few minutes, and wipe it off with a soft cloth.
Most importantly, protect your lips by wearing a lip balm with an SPF of at least 15. The harsh UVA and UVB radiations cause the most damage to the delicate lips. They wrinkle and darken, so your best bet to protect them is to apply SPF-based lip balms and also to moisturize them.