Preparing for your big wedding day is one of the most tedious organising and planning you'll ever do in your life. Everything has to be properly vetted and decided from the most significant detail such as the venue down to the littlest things such as centrepieces. Not to mention choosing the right wedding party such as bridesmaids and groomsmen.
Once you have lined up your bridesmaid, the next thing you have to decide on is their dresses. While you want to keep within the theme, there are a lot of factors that you should consider – from the budget down to the colours. Luckily for you, there are easy rules to follow to make sure that your bridesmaids will also stand out on your wedding day.
8 Rules For Dressing Your Bridesmaids
In this article, we will not just talk about the dress design and the colours. We will discuss some of the most important aspects that you should consider for choosing the perfect bridesmaid dress. Let's take a look at each of them.
1. Start by discussing the budget
Once you have selected the women who will stand beside you on your wedding day, it's time to discuss the budget for the bridesmaid dresses. Some couples bring it to tradition that they will pay for the expenses of buying their entourage's attire. This is the most ideal set-up especially if you want everyone to have the same look. However, in some cases, you can also discuss dividing the expenses with your bridesmaids. For as long as they are willing to do so, you can set out a budget before choosing the dresses.
2. Do online research
The next thing you need to do is to research. Luckily, you can now save a lot of time going to different stores because you can easily check them online. You can search for wedding and bridesmaid dress ideas before you settle on the design. As much as possible, look around different suppliers and stores and have different choices as well. In that way, you can carefully plan which dress to choose that will not only look great on your bridesmaids but is also easy on the pocket.
3. Get ideas from your bridesmaids
Understandably, this is your wedding and your choice is the one that matters the most. However, they are the ones you will wear it. Thus, it's best to get their insights and ideas when choosing dresses. You can also ask them for some suggestions especially if they have been a bridesmaid before. They will sure know more helpful tips and information that will help you choose the perfect dresses.
4. Keep it within the theme
If you have already decided on a theme or motif for the wedding, it's best to follow suit on the bridesmaid dresses. In that way, they will not look a bit off standing in front during the ceremony. One of the best things about thematic weddings is that you can play around and be more creative. For instance, if you are planning a wedding by the beach, you can go for more eccentric dresses such as silk or satin dress over a swimsuit.
5. Choose the right fabric
Another thing that you need to consider is the fabric. This goes without saying that the material for your bridesmaid dresses should be comfortable to wear throughout the entire ceremony. If you are planning an indoor wedding, you can choose pretty much all types of fabric. However, if you are having an outdoor wedding, you might want to choose a lighter fabric. Remember, as much as you want them to look great, you also want them to be comfortable.
6. Avoid monochromatic dresses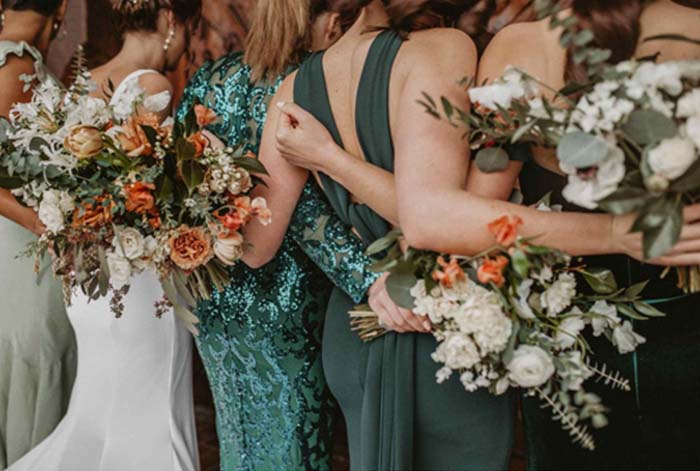 One of the biggest misconceptions about bridesmaid dresses is that they should all come in the same colour and shades. Of course, you want them to be in theme but you don't want them to look very identical. If your motif is green, you can have them wear different shades of green for a more unique and stand-out look. It will also work best during the ceremony if they are standing from the lightest to the darkest colour. It can be an additional aesthetic to the event.
7. Consider all shapes and sizes
The most important factor that you should consider is that your bridesmaid dress should look best in all shapes and sizes. Avoid being an inconsiderate bride who will only ask the stereotypical sexy to be their bridesmaid. Choose those who were a significant part of your life. It means that your bridesmaid dress should look perfectly to anyone who will wear it.
8. Shop with your bridesmaids
If you are looking for a more exciting experience, you can also bring your bridesmaids with you when shopping for dresses. They can give feedback to each other on how to make themselves look more stunning on your wedding day. Plus, they can also decide who will wear what, instead of you dictating it to them. Let them be part of the process.
They will be standing beside you on the biggest and most magical day of your life. Your bridesmaids' presence is more important than any of your guests. Their attendance signifies support on the biggest sleep you'll ever make. Hence, giving them the best bridesmaid dresses is the best gift you can ever give them.