As the skin naturally repairs itself at night, it is the perfect time to help your skin fight the aging effects. So, follow a good night skincare routine for healthy & glowing skin.
Why is it important to care for your skin at night?
We all know that daily skincare is essential. Maintaining a personal skincare routine can help promote healthy skin and be free from skin aging signs. But, did you know that night skincare is just as important as morning skincare routine?
Yes, your skin deserves pampering which requires enough effort, time, and the right products. Sadly, this requirement is hardly met in the mornings as it is the busiest time for most people. A night skincare routine mainly focuses on repair and hydration, which keeps your complexion clear and your skin firm. Establishing a night skincare routine will allow your skin to breathe, heal, and restore a healthy young glow.
Did you know your skin function changes in the evening?
Our skin is a dynamic organ that reflects our inner health, which fluctuates from day to night. Regeneration of cells is at its peak at night, and there is maximum blood flow to the skin which in turn provides nutrients and helps eliminate toxins from your skin.
The essential part of the renewal process during the night makes way for a radiant complexion by day. This intensive night-time cell regeneration along with increased blood circulation and shedding of dead skin cells allows the skin to prepare itself for the next day and restore its protective barrier function.
Tips for applying products during nighttime skincare routine
A nighttime routine is about aiding the repair process and providing your skin with good, nourishing ingredients. It is like hitting the 'undo' switch on the damage done to the skin during the day. Here are the five best pointers just for you to follow before you hit the bed so that you wake up to gorgeous skin.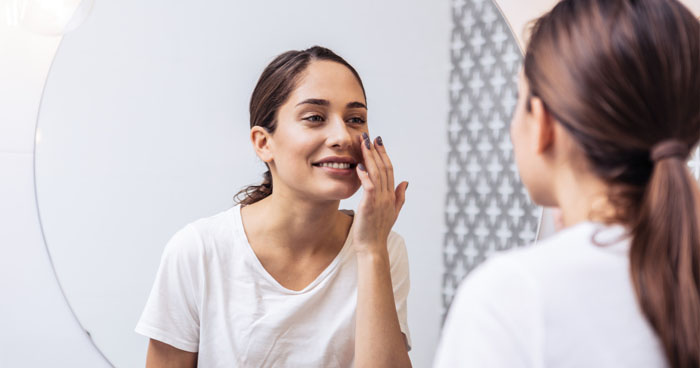 1. Remove Your Makeup
It is very essential to remove your makeup before going to bed, as it can cause great damage to your skin. A quick and simple way to clean off all your makeup residue, dirt, and oil, after a long tiring day, is to use a good quality make-up remover. This step ensures that all makeup is removed when you wash your face.
2. Use a Cleanser
Not taking off all the dirt and gunk at the end of the day can cause skin irritation and breakouts. Use a quality cleanser to wash your face. Cleansing your face leaves your skin fresh and perfectly prepped to absorb your skin products.
3. Apply an Alcohol-free Toner
Toner is a good step to add to your skincare regime to maintain clear and healthy skin. Face toners prep your skin for moisturizers and serum, while getting rid of excess oil and stubborn dirt or leftover makeup on your face after you wash it. Use a mild, alcohol-free toner to balance the pH of your skin and promote healthy cell turnover.
4. Use a Skin Serum
For those who are wondering what a serum is, it is a concentration of active ingredients, which target specific skincare concerns. You can invest a few bucks more in a good quality serum as it protects your skin against free radicals, improves signs of aging and photodamage, and decrease the appearance of fine lines, and wrinkles while brightening and firming your skin.
5. Put on a Moisturizer
Your skin's ability to retain moisture reduces, as you age. However, moisturizers help prevent your skin from drying out and leave your skin hydrated and smooth. They are most effective when applied on moderately damp skin to seal in moisture. Hence, using a moisturizer daily is necessary regardless of your skin type or age.
Give your skin all the help it requires while it renews itself at night, so you wake up to healthy, beautiful skin.